General
Weather
Airports
Attractions
Activities
---
Introduction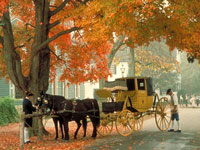 Natives of the Commonwealth State of Virginia on America's east coast are enormously proud of their local history and have put a great deal of effort into preserving their historical landmarks, homes and public buildings. The bountiful land of Virginia is where America's first permanent English colonists put down roots, founding the town of Jamestown in 1607. They stepped ashore originally on a sandy beach at the mouth of Chesapeake Bay, a large estuary that became their gateway to the scenic hinterland.
Following the rivers inland, the early pioneers found rolling hills and then the beautiful Blue Ridge Mountains towering over fertile valleys in the western part of the state. Today, 400 years later, a great deal of Virginia's wilderness areas remain in their untouched pristine condition, making it the perfect destination for lovers of the outdoors as well as for those intent on discovering some living history.
Virginia has not just preserved its historic relics, it actually uses them as settings for living history displays. Historic parks and even whole towns, like Williamsburg, act as time machines to transport visitors to a bygone age, where bewigged gentlemen stroll the streets and craftsmen ply their trades along cobblestone streets.
The State has also preserved numerous battlefields and monuments associated with the Civil War, in which Virginia played a central role, with its capital, Richmond, being the seat of the Confederacy. Many of Virginia's sons have played a vital role in politics during the centuries: the state has produced eight United States presidents, including George Washington and Thomas Jefferson, whose homes are national treasures and open to the public.
Even Virginia's popular seaside resort city of Virginia Beach is steeped in history, so visitors who come simply to enjoy the State's many miles of Atlantic Coast sandy beaches cannot help but absorb some of the region's historic importance along with their suntans.
Virginia's worth as an enjoyable destination can be proven by the fact that tourism is a main source of state revenue, employing more than 200,000 people and bringing in about $15-billion each year.
Time Zones
GMT -5 (GMT -4 from March to November).
Climate Info
The Virginia climate is a coastal one, mild and humid, with the four seasons experienced slightly differently in the different regions. The Tidewater regions, where Virginia's major rivers drain into the Chesapeake, are low-lying and experience more moderate temperatures - with warm to hot summers and mild winters. As one moves westward and altitudes increase, temperatures tend to drop and particularly in the more mountainous regions and the northeastern areas winters tend to be far colder, with heavy snowfall in the Appalachians. Summers, however, tend to also be mild and pleasant, and the average summer temperature statewide is close to 80°F (about 26-27°C). Winter temperatures in January, usually the coldest month, are usually about 30°F (-1°C).
Getting Around
The Greater Richmond Transit Company runs the public bus system that serves the Richmond metropolitan area with a basic fare that is only accepted in exact change. The bus service runs daily from 5am to midnight. On weekends between June and September a motorised shuttle service connects all the city's cultural attractions for the benefit of tourists. Orange buses travel from Chimborazo Park across to the Science Museum of Virginia, stopping at all the attractions in between. The Blue line buses continue from the science museum to Maymount. The fare is standard and passengers can hop on and off as they choose. Richmond is well supplied with more than 40 taxi companies, with cab ranks outside most hotels, the airport, Amtrak and the Greyhound terminal. The city also offers plenty of walking tours and is relatively compact and easy to negotiate on foot. It is worth hiring a car to explore the outlying regions, but not entirely necessary if staying in town, although traffic is usually fairly light and parking relatively easy to find.
Richmond International Airport (RIC)
| | |
| --- | --- |
| Location | The airport is situated seven miles (11km) southeast of Richmond. |
| Time Difference | GMT -5 (GMT -4 from March to November). |
| Contacts | Tel: +1 804 226 3000. |
| Getting to city | Taxi and limousine services are available outside the baggage reclaim area. The Greater Richmond Transit Company offers public buses to the Richmond terminal and to the city, as well as other greater Richmond locations. |
| Car Rental | Desks for rental car agencies are situated on the lower level of the terminal building. Represented are Avis, Budget, Enterprise, National, Dollar, Thrifty and Hertz. |
| Airport Facilities | A bank located in the main lobby on the ground floor offers full service banking including foreign currency exchange. ATMs are located in the Upper Level of the terminal and in the lobby of the parking garages. There are several bars, cafes and restaurants throughout the airport. Shops are situated in the atrium area of the second level of the terminal building. The airport also has teleconferencing with free Internet Ethernet LAN connections for laptop computers and meeting rooms for hire. A free Wireless Internet Service is also available for laptops on the airport's upper level. A Visitor's Information Center is located on the upper level near the escalators. |
| Car Parking | There is daily, hourly, valet, handicapped and economy parking available. Free courtesy shuttles run every 10 minutes between the Economy parking lots and the Terminal building. |
| Depature Tax | None. |
| Website | www.flyrichmond.com |
Capitol Square

| | |
| --- | --- |
| Address | Main entrance on Bank Street, between 9th and 10th Streets |
| Phone | (804) 698 1788 (tour information) |
| Website | legis.state.va.us |
| Opening Time | Open daily. Guided tours are Monday to Saturday 9am to 4pm, Sunday 1pm to 4pm |
| Admission | State Capitol tours are free |



---
Museum and White House of the Confederacy

Civil War buffs flock to the Museum of the Confederacy, which houses the most comprehensive collection of Confederate artefacts, personal memorabilia and art to be found anywhere in the United States. The exhibits include 550 battle flags, 215 uniforms, including those of well-known officers, and 1,000 military buttons. Art works include E.B.D. Julio's heroic painting, 'The Last Meeting of Lee and Jackson'. Beside the museum is the White House of the Confederacy, the 1818 mansion in which Confederate President Jefferson Davis and his family lived during the Civil War. It is still furnished with original items. Visitors have to join a tour to see the White House. These depart regularly throughout the day.




| | |
| --- | --- |
| Address | 1201 East Clay Street |
| Phone | (804) 649 1861 |
| Website | www.moc.org |
| Opening Time | Monday to Saturday 10am to 5pm; Sunday 12pm to 5pm. |
| Admission | Museum: $9 (adults), $5 (children 7-18); White House: $9 (adults), $5 (children). Combo ticket: $12 (adults), $7 (children). Other concessions available |



---
Richmond National Battlefield Park

Between 1861 and 1865, Union armies repeatedly set out to capture Richmond, strategic capital of the Confederacy, and end the Civil War. Three of those campaigns came within a few miles of the city. The park commemorates 11 different sites associated with those campaigns, including the battlefields at Gaines' Mill, Malvern Hill, and Cold Harbor. Established in 1936, the park protects 763 acres of historic ground. There is a visitor centre in the Tredegar Irons Works on Richmond Riverfront Canal Walk at the corner of Tredegar and 5th Streets. Here, a film depicting the battles around the city is shown and information about self-guided tours of the battlefields is available.




| | |
| --- | --- |
| Phone | (804) 226 1981 |
| Website | www.nps.gov/rich |
| Opening Time | Battlefields are open from sunrise to sunset. Visitor centre open 9am to 5pm |
| Admission | Free |



---
Virginia Museum of Fine Arts

Richmond boasts an exceptional Fine Arts Museum, which presents a panorama of world art from ancient to modern, including the largest public Fabergé imperial Easter egg collection outside of Russia, consisting of 150-odd jewel-encrusted creations made for Tsars Alexander III and Nicholas II. The Museum also boasts a collection of English silver, one of the world's leading collections of the art of India, Nepal and Tibet, and six Gobelin Don Quixote tapestries.




| | |
| --- | --- |
| Address | 200 N. Boulevard |
| Phone | (804) 340 1400 |
| Website | www.vmfa.state.va.us |
| Opening Time | Wednesday to Sunday 11am to 5pm |
| Admission | Free, but admission fees are charged for temporary exhibitions |



---
St John's Episcopal Church

St John's Church has stood on Richmond Hill above the James River since 1741, and is known for having been the venue for the second Virginia Convention in 1775, attended by George Washington and other historic personalities. The church is also where legendary Pocahontas was baptised and married to John Rolfe. The wooden building still boasts its original pulpit and some exquisite stained-glass windows. Between May and September living history performances are given every Sunday recreating the historic Second Virginia Convention. Informative tours explore the historic significance of the church building and grounds.




| | |
| --- | --- |
| Address | 2401 East Broad Street |
| Phone | (804) 648 5015 |
| Website | www.historicstjohnschurch.org |
| Opening Time | Guided tours Monday to Saturday 10am to 4pm (3.30pm in winter); Sunday 1pm to 4.30pm (3.30pm in winter). Sunday services at 8.30am and 11am |
| Admission | Tours: $6 (adults), $4 (children 7-18) |



---
Virginia Science Museum

The hands-on Virginia Science Museum allows visitors to touch, feel, observe and explore the impact of science on their lives, covering everything from astronomy to computers, and crystals to flight engineering. The museum is housed in a soaring historic building, the former Broad Street Station designed in 1919 by John Russell Pope. The fascinating and fun museum is complemented by a 275-seat Ethyl Universe Planetarium/Space Theatre that screens Omnimax films as well as providing multimedia planetarium shows.




| | |
| --- | --- |
| Address | 2500 West Broad Street |
| Phone | (804) 864 1400 |
| Website | www.smv.org |
| Opening Time | Tuesday to Saturday, 9.30am to 5pm. Sunday, 11.30am to 5 pm |
| Admission | Exhibits $10 (adult), $9 (child); IMAX $8.50; both $15 (adult) and $14 (child) |



---
Shenandoah National Park

Following the Blue Ridge Mountains for 100 miles (161km) through west Virginia the Shenandoah National Park is a wilderness area where deer and black bears roam among about 100 species of trees on the forested slopes. Hiking trails snake through the area from the azalea-trimmed Skyline Drive, the 105-mile (169km) long road that runs through the park from the Piedmont Plateau, providing wonderful vistas of the Shenandoah Valley from its overlooks. Services and visitor centres are available on the drive, but are closed during winter. Wildflower weekend is celebrated in May, and ranger-led tours and programs are offered between April and October.




| | |
| --- | --- |
| Phone | (540) 999 3500 |
| Website | www.nps.gov/shen |
| Transport | No public transport operates within the park |
| Opening Time | Open 24-hours daily; some sections of the Skyline drive are closed between dusk and early morning during the hunting season, or during bad weather. Visitor facilties operate from March to late November |
| Admission | Individuals: $8 (March to November); $5 (December to February). Vehicles: $15 (March to November); $10 (December to February). Tickets are valid for 7 days |



---
Lexington

The sedate town of Lexington, 138 miles (222km) west of Richmond in the Shenandoah Valley, boasts one of the most picturesque downtown areas in America, its fine old buildings having been preserved and restored so it appears that the clock stopped here in the 1800s. Tourists visit the town simply for its ambience, and perhaps to pay tribute to Civil War General Robert E Lee, who after the war served as president of the Washington and Lee University here and was eventually buried in Lexington along with his famous horse, Traveller. Apart from the University, which has one of the oldest and most attractive campuses in the country, Lexington is also home to the Virginia Military Institute, one of whose graduates was General George C. Marshall, winner of the Nobel Peace Prize. The Institute has a museum dedicated to his memory.





---
Colonial Historic Triangle

The three east-Virginian towns of Williamsburg, Jamestown and Yorktown make up a unique historical attraction where the clock has been turned back 200 years or more. The first British settlers in the 'New World' founded Jamestown in 1607. In nearby Yorktown in 1781 Americans won their independence during the last major battle of the Revolution. Visitors can now see what life was like in the fledgling Virginia during the colonial period by visiting Williamsburg, where a British flag still flies over the Capitol building and women are still wearing long dresses and ruffled caps, with men in powdered wigs populating the taverns. It all adds up to the greatest historic theme show ever, but it makes Williamsburg into more than just a recreation of an 18th-century town. Chat to the locals and you feel you are actually back in those days, as blacksmiths puff their bellows at the forge and clip-clopping horses pull carriages along the cobblestone streets. The Colonial Williamsburg Foundation looks after 88 original buildings in the town, while 300 others have been reconstructed, including two taverns, a parish church, the courthouse and capitol building.





---
The Chrysler Museum of Art

Originally founded in 1933, the Chrysler Museum of Art is located on the waters of The Hague, in the Ghent district of Norfolk, and is home to the art collection of Walter P. Chrysler, Jr. Over time it has increased its collection significantly and is one of Norfolk's most esteemed attractions.




| | |
| --- | --- |
| Address | 245 West Olney Road |
| Phone | (757) 664 6200 |
| Website | www.chrysler.org |
| Opening Time | Wednesday to Saturday, 10am to 5pm. Sunday 1pm to 5pm |
| Admission | Free. There are entry fees for certain special exhibitions |



---
Nauticus

Nauticus is a valuable attraction for both educational and entertainment purposes. This maritime-themed science centre and museum now stands where Norfolk's once was and features exhibits, interactive theatres and touch tanks, as well as a weather station. It is also home to the USS Wisconsin, an additional interest for mariners and vacationers alike.




| | |
| --- | --- |
| Address | 1 Waterside Drive |
| Phone | (757) 664 1000 |
| Website | www.nauticus.org |
| Opening Time | 10am to 5pm |
| Admission | $18.95 (adult) and $14.95 (child) |



---
Travel Guide powered by www.wordtravels.com, copyright © Globe Media Ltd. All rights reserved. By its very nature much of the information in this guide is subject to change at short notice and travellers are urged to verify information on which they're relying with the relevant authorities. Globe Media and UNIGLOBE Travel does not accept any responsibility for any loss or inconvenience to any person as a result of information contained above.